Legitimate Project on Polkadot Series #4
The 4th project has 7 signs of a legitimate one that we would like to show is Kiltprotocol - Blockchain protocol for issuing self-sovereign, anonymous, verifiable credentials
Let's together figure out more information about KILT
KILT has received Web3 Grants Until now, Kiltprotocol has received grants from W3F Open Grants Program for "Substrate Anonymous Credentials" & "Polimec: A Fundraising Mechanism for Projects within the Polkadot Ecosystem"

Active Development In one month, Kiltprotocol mashnet-node had 8 authors have pushed 26 commits to develop and 178 commits to all branches. On develop, 95 files have changed and there have been 120,286 additions and 6,392 deletions

Open source KILT is an open source. Check their Github: https://t.co/Ar4SutD9HE?amp=1

Whitepaper Kiltprotocol has a well-written, detailed whitepaper that outlined their current approach to provide credentials for the Web3foundation by providing a blockchain based fat protocol named KILT. https://t.co/2n7bwH1vdb?amp=1

Visible and reputable team Kiltprotocol Protocol is developed by #BOTLabs GmbH, which was founded by Ingoruebe and the German publishing house Hubert Burda Media in Berlin, January 2018. https://t.co/FyKNOd8Dtj?amp=1

Haven't issued token on another chain $KILT has not issued tokens on another chain, this shows their dedication to the ecosystem and their commitment to actually build on Polkadot. KILT is based on Parity Substrate. KILT will have a native Blockchain and a native Coin.

Parachain candidate KILT aims to be a parachain & has successfully tested on Rococo as a parachain and a parathread before moving over to Kusama and eventually Polkadot. https://t.co/mbaNdXR5ht?amp=1
Overview KILT by infographic: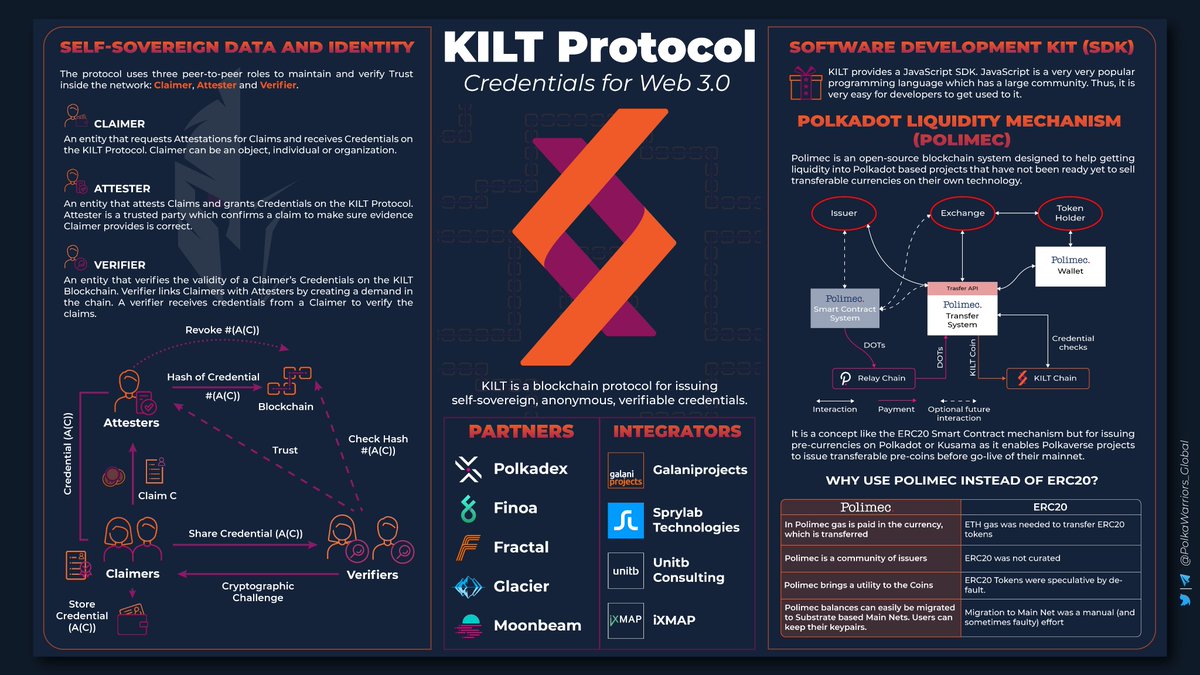 On May 19, KILT Protocol announced the launching of SocialKYC - a decentralised identity verification service. https://twitter.com/PolkaWarriors_/status/1395225783380058115
See KILT on DotMarketCap: https://dotmarketcap.com/coin/kilt
Dotmarketcap is a website where you can find data of prices, charts, capitalization as well as the latest information and analysis of entire projects on the Polkadot ecosystem. The #DotEcoCap concept is the most...
Learn More